Review: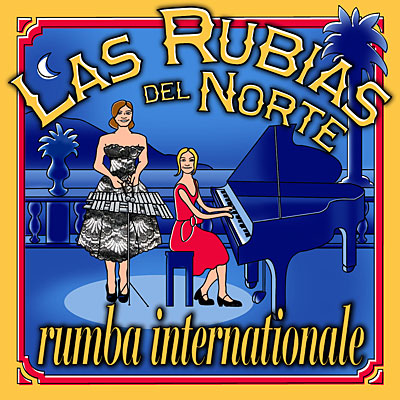 Las Rubias del Norte - Rumba Internationale
I know for a fact that many of you reading this are not Latino. Nor Latina. Some are honkies, some African-American, some Asian, some...how do the French say, "I know not what."
And unfortunately, for most American cultural subsets, Latin music is most often personified by sparkle-suited, accordion-heavy, over-plasticked cheese doodles which appear regularly on those channels that are fun to watch for a minute until the guy in the bumblebee suit shows up.
So imagine my surprise when about a year or so ago, at Freddy's Backroom in Brooklyn, I discover that I REALLY LIKE Latin music.
Blame it on Las Rubias del Norte, a group of accidental tourists in the Latin field who excel at bringing out the best in this wide-ranging genre. The Rubias' approach is so wide-ranging, in fact, that it doesn't even stick to Latin composers.
Vocalists and multi-instrumentalists Alyssa Lamb and Emily Hurst are actually refugees from the New York Choral Society, and apply their considerable chops to all manner of western music throughout Las Rubias' debut disc, Rumba Internationale.
Their South American take on Mozart's Confutatis make it sound less like it came from the dark bowels of Don Giovanni and more like the soundtrack for a sultry Havana evening. The same is true for their cover of the western saddle-ballad Tumbling Tumbleweeds, which retains its cowboy flavor even as the harmonies blow in from south of the border.
And these harmonies are indeed exquisite, constituting at least 50% of the compulsive listenability of this disc. Lamb and Hurst find that little Young Frankenstein nerve at the back of your brain, and you spend the duration of the performance happily grasping at imaginary birds in the air.
Which is not to give the other Rubias short shrift. The band is a study in minimalist texture. The rhythm section (Taylor Bergren-Chrisman on upright bass, Greg Burrows on percussion) powers each tune insistently but invisibly. Electric guitarist Giancarlo Vulcano places dusty, reverb-laden notes atop the mix, adding a '60s pop touch that somehow feels right at home. Cuatro player and occasional vocalist Olivier Conan moves seamlessly between rhythm and lead, sometimes scratching out a fervent backbeat, then rising to the fore with melodic hooks that pick up where the ladies leave off.
But the other at-least-50% of this disc's appeal is in the material selection. Fans of Cake, Doris Day, or pretty much anyone will likely recognize Cuizas, Cuizas, Cuizas (the original Perhaps, Perhaps, Perhaps). In fact, the Rubias go one further and easily graft Abba's Fernando onto the melody line just for jabs & grins.
The title track is a perfect showcase for the group's signature harmonies, while advising listeners to "aprenda inglés, hable francés". The Rubias dive deep into the Latin treasure trove and bring back melodies that absolutely refuse to leave your brain. For me, it probably helps that I don't understand any of the lyrics, so I enjoy the unadorned glory of this infinitely singable music.
Lamb and Hurst admit that they've been "sidetracked" from their classical careers by the unexpected live success of Las Rubias del Norte. Which is why I'm advising everyone reading this to buy a copy of Rumba Internationale at the first opportunity. We must keep them sidetracked for as long as possible.
Perhaps with performers like these around, we'll keep that guy in the bumblebee suit from showing up.